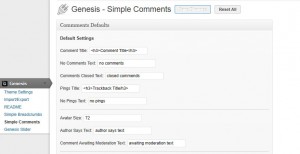 Genesis is a powerful framework that allows developers to quickly edit the theme from just a handful of files. Developers new to the framework would be well served by my Genesis Explained series, but many users have no desire to work with the inner code, but still want to be able to make changes to the framework. The "simple" series of plugins allows for easy changes through a user interface that anyone can use.
The Genesis Simple Comments Plugin allows users to change the comments on their site without knowing code. The plugin is very light and works with filters built into Genesis to change the various labels and options in Genesis.
Currently the plugin adds these options
Comment Title
No Comments Text
Comments Closed Text
Pings Title
No Pings Text
Avatar Size
Author Says Text
Comment Awaiting Moderation Text
Enable Aria Required Attribute option
Display Author Field Option
Author Field Label
Display Email Field Option
Email Field Label
Display URL Field Option
URL Field Label
Replay Label
Notes Before Form
Notes After Form
Submit Button Label
This plugin is available on WordPress.org in the plugin library. Genesis Simple Comments.